Summer is right around the corner. Everybody wants to be as comfortable as possible in this scorching heat. Mothers usually have to think for two instead of one. Consider your worries taken care of. We're here to fill you in on the best comfortable and stylish clothes for your babies this summer. The typical rule of thumb to remember is to dress your baby in one extra layer of clothing than what you feel comfortable in.
Singlets
Singlets are probably the most preferred choice of clothing for the little ones in hot weather. Not only are they comfortable but they're light and breezy. Letting the air easily reach those tiny arms and legs. Some singlets come in onesie types which cover the diaper area as well. But for tank tops, you can pair some cute shorts, or a skirt to go with. Otherwise you can even leave on the vest with just the nappy. If you're going out in the sun, remember to use the appropriate amount of sunscreen on your baby.
Rompers
Most parents only think of rompers as a sleeping suit or casual wear. But rompers can also be worn outside in the heat. Short sleeved or sleeveless rompers are probably the perfect outfit for your baby. They cover the diaper and serve the purpose of a shirt for the torso area. You can find some incredible baby rompers in Pakistan. Our pick for you would be Cocobee. Cocobee is an online website highly popular for their baby bodysuits and rompers. Their collection is absolutely jaw dropping. 
Skorts
Ever heard of skorts? They're a mixture of skirts and shorts. Skorts are super in fashion nowadays. They're a good balance between shorts and skirts. So if you can't decide whether to style your baby in shorts or a skirt, skorts are the right way to go. 
Dresses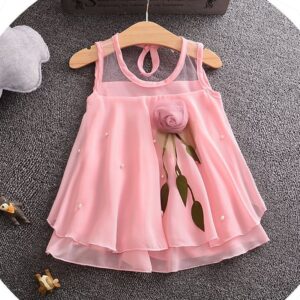 When you think of summer, you think of dresses. Dresses are flowy, breezy and light. A perfect fit to be worn in the burning hot sun. Also, the cuteness dresses add to your baby's look is a whole other level. Dresses are easy to wear as well, so your child will rarely be fussy when dressed in an adorable little beach or summer dress.
Sandals
While most of us get done with the clothing part easily, some of us struggle on footwear. You don't want your child's feet feeling suffocated or too warm in a pair of shoes. For summer, our suggestion would be a pair of eye-catching sandals. Simple, comfortable and modish!
Accessorize
 Add some fun, pretty accessories to your baby's look. Hats are such a charming little accessory to include. They're also a must have in the sun. If you're having a baby's day out on the beach perhaps, a hat will come in handy to block the heat directly on your kid's face.  Bows and ribbons are my personal favorite, they're so chic! If you're looking for a less casual and fancier look, simply add a belt. A belt can be worn in so many different ways. On a dress, on shorts, on skirts, and what not? Don't just worry about the clothes, worry about your kids' accessories too! In all seriousness, if you're styling your kid's outfit, do it the right way.